Here is the polar bear escaping from Isfjord Radio
On Sunday a polar bear broke into the dry storage room at Isfjord Radio.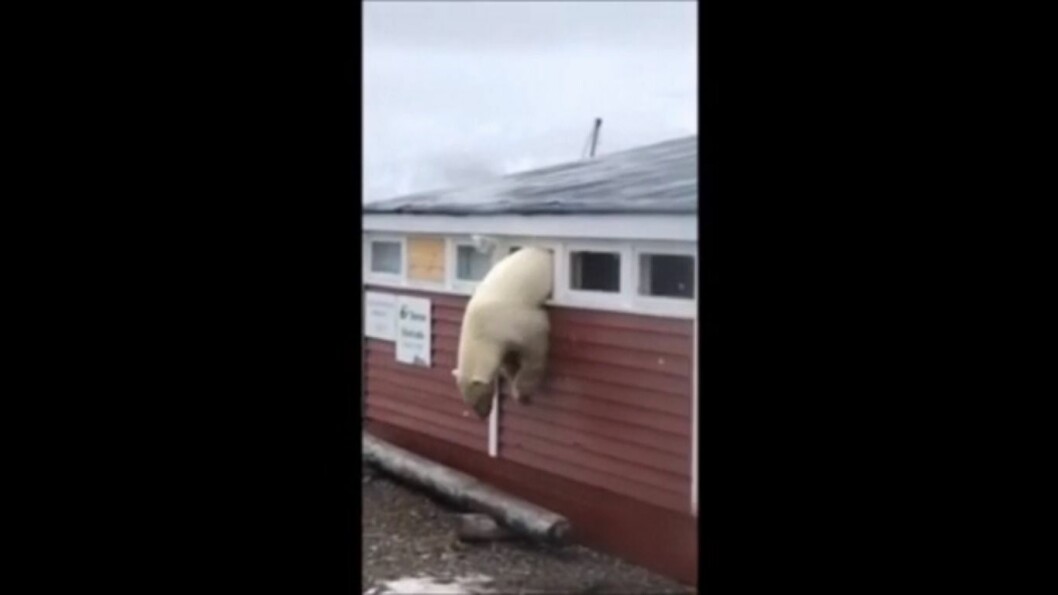 The uninvited guest was seen inside the building just before 7 a.m..
"There is a polar bear who has entered a part of Isfjord Radio by breaking up an entryway," Police Chief Lt. Arnt Rennan told Svalbardposten. "Officials from the governor's office are on their way to the place with people from the Norwegian Polar Institute to try to get it out again."
The first thing they wanted to try was to scare the bear out of the storage room. If that failed, sedating it was a possibility.
There were nine guests and five employees at Isfjord Radio during the bear's visit, none of whom appeared to be in danger.
Read more: This is how it looked at Isfjord Radio after a polar bear visit
Station Manager Malin Stark discovered the visiting bear.
"I live in one of the cabins at the station and it took about a minute to get myself there," she said. "The first thing I saw was that the entrance door was broken and the first thing I felt was irritation. It's only been a short time since we got a new entrance because the previous one was also destroyed by a polar bear."
When Stark took a peek into the warehouse she quickly realized that things were not the way they should be.
"We had some bags of food waste inside the door which I saw were broken up," she said. "Then I heard some sounds in there and realized that the bear was still there."
Was she scared at some point?
"No, not exactly scared," Stark said. "But there was an adrenaline rush when it turned out that the bear was still in the building. I went in and woke up a guide who is here with some guests."
She said the bear appeared to be a large male.
"What worries us now is that the bear is obviously stressed," Stark told Svalbardposten at 9 a.m. "We just hope that it hasn't done anything to itself or gotten stuck."
When the governor's helicopter arrived at 9:35 a.m. the polar bear climbed out of a window and wandered off. Officials are following up to determine specifics of the incident.